---
(1)Cultural and creative product design. Participants need to design cultural and creative products in combination with the local culture and characteristics of Weinan, Linwei, such as Qinyuan black-pottery, Qiaoniang straw plaited articles, handwoven cloth, cloth shoes, and of these sorts of local featured products and elements. We accept characters design, VI design, cultural and creative illustrations, product package design, Weinan gift box design, souvenirs design, etc.

(2) Elderly-friendly product design. Participants need to design products in consideration of the needs of the elderly, of which categories can include but not limited to daily supplies, care service product, cultural & entertainment product, intelligent equipment, food, and cloth etc.

(3) Participants can form the innovative integration scheme with their own private labels or brands at home or abroad under such brand suitable for senior citizens through the design competition of creative products. Participants can integrate the cultural concept of the elderly into the products through packaging design, product form design, operation scheme design and brand marketing planning, etc.

*The brands selected must be authorized by the brand owner.

---
Requirements for submission:
提交内容:
1. Registration form (download from the official website).
2. Design scheme (PPT or PDF): Product design concept, overall scheme, product implementation,team/company profile,implementation plan, promotion scheme, cost calculation, etc.;
3. Participants are required to submit the design sketches, working photos and other materials of the creative process (the pictures should be in JPG format and the accuracy should not be less than 150dpi).
4. Optional submission:
Video (2-4 min). In order to better demonstrate the presence of the work, the participants can submit a short video, including the appearance of team members and description of the design concept in combination with the display board. Forms unlimited. The video format should better be MPEG, MP4 or AVI.
---
Review rules:
评审规则:
Integrity 10%: completeness of design, and clear design logic
Feasibility 20%: the depth of developing the theme and aim of this competition, implementability of design, detailed implementation scheme and financial analysis required.
Innovativeness 30%: farsightedness, novelty, and uniqueness.
Commercial character 20%: product of high commercial value and high economic benefit
Cultural nature 20%: product of high cultural merit, embodying cultural characteristics and elements of Weinan.
Some of the winning teams have access to proofing opportunities and governments' purchase order.

Contact Information
联系方式
---
International Design Competition Organizing Committee of AIM
Official website: www.aim-competition.com
Email: info@aim-competition.com
Tel.: 188 0012 5183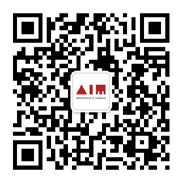 AIM CHAT
扫描关注AIM官方公众号